Okay so please note that the title is meant to be a bit of fun. I have not suddenly developed a crazed ego of fame!
However, when I went into Isolation for Radiotherapy, the very last thing I expected was to be on BBC Radio Gloucestershire, BBC1 Points West News on the TV and in the Gloucestershire Echo, Western Daily Press and Daily Mail Online! Yet somehow, thanks to Sarah who blogs at Mum of Three World, I have conquered all five in the space of a few days!
If you missed me on TV, you can watch it here:

If you missed me on the Radio, You can listen to me on BBC Radio Gloucestershire by clicking here.
I was live there, so that's my whole interview, but for the full version of Sarah's interview click here and scroll to 43 minutes.
I'm on the front page of the May 27th Gloucestershire Echo – which you can see online here.
In the Western Daily Press click here.
In the Daily Mail Online here.
Even more bizarre – My Twitter account @crazywithtwins has gone totally nuts with people saying nice things about me!
And #S2S2D has gone much further than I thought too. For those of you not sure what that is… It's a whole bunch of incredible bloggers who have written blog posts to cheer me up. We are only on Day 4 of 30 and over 40 bloggers have done posts for me. If you click here and read Victorias post, you will see lots of squares at the bottom of her post – those all link to other blog posts written as part of this campaign to support me.
Perhaps now would be a good time to remind you I'm doing Race for Life in July? If I'm going to go through with this horrendous Cancer ordeal, being kept away from my gorgeous girls for so long, it'd be good if something nice could come out of it! Just imagine – if everyone who tweeted me messages of support over the last three days had sponsored me £1 – I'd have raised thousands for Cancer Research UK by now!
Pssst!… You can sponsor me by clicking here!
I heard a rumour that they are trying to raise money for an iPad in the iodine room at Cheltenham General Hospital too. Anyone got any ideas how I can help them achieve that? Knowing how much all these bloggers and tweeters have helped lift my spirits while I was in isolation; it would be great if everyone who has to suffer this gruelling treatment could have internet access too (without having to bin their mobile phone or wait 3 months to get it back). Hmmm PR contact anyone?
I'll be honest… I am rendered speechless and overwhelmed by the support of everybody. This is a very difficult time for me and my family and if it wasn't for ALL OF YOU… there would be even more tears and a lot more stress. Thankyou all so much for being there for me.
FOR ANY OF YOU WHOM HAVE JUST DISCOVERED MY BLOG AND WANT TO KEEP UPDATED WITH MY PROGRESS THROUGH CANCER AND MUMMYHOOD, THERES A LITTLE BOX ON THE TOP RIGHT OF THIS PAGE WHERE YOU CAN ENTER YOU EMAIL ADDRESS AND ALL MY BLOG POSTS WILL GO STRAIGHT TO YOUR INBOX. WHAT'S MORE… IT'S FREE!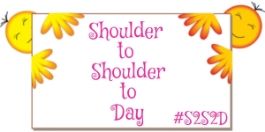 UPDATE:
Since publishing this post, my story has also gone in The Daily Mail, The Express, The Star, The Telegraph, The Metro, two Chinese newspapers, one French newspaper and one Australian online newspaper.
I have NOT made any money from any of this publicity. But I am hoping it will help raise awareness of the wonderful work done by the NHS, Maggies Cancer Centres, Macmillan Cancer Support and Cancer Research UK.
Also, the kind people at Cosatto, have offered to donate an iPad to the iodine room at Cheltenham General Hospital. Thankyou so much Cosatto!