If you are a blogger reading this, you have probably already heard of Multiple Mummy, but for those of you who haven't…
Kerry is a fellow twin mummy and blogger of a fantastic and inspiring blog called Multiple Mummy. Her blog is much bigger than mine and one of the first blogs I ever read. Although I have not YET had the privilege of meeting Kerry, I hope to one day.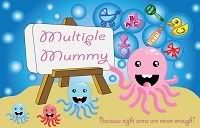 One of the most beautiful aspects of the blogging community, is the way we stand together and support each other. Through blogging and Twitter I have found comfort in the most unlikely of places and such a strong support network that I never knew existed. Well now… we all need to come together for a reason. Bloggers and Tweeters united…
In July this year, tragedy struck for Multiple Mummy when quite unexpextedly, a ruptured aneurysm caused her to have a brain haemorrhage. Numerous infections have caused many setbacks in Kerrys rehabilitation and to this day she is still very seriously ill in hospital. Her wonderful husband is updating her blog for her and raising their three beautiful children, whom all really need her to get better soon. I can't begin to imagine how hard it must be for them all.
So here's where you come in..
Liska, blogger of New Mum Online has had an idea of how we can all show our support for Kerry and our hope for her recovery to speed up. Liska has met Kerry in the real world and written a lovely post about her with lots of photos showing her bubbly happy personality, you can visit that post here.
Can you spare a prayer or wish for Kerry's recovery on the 24th November 2012 at 10pm?
If you are a blogger – write a post of hope for Kerry and her family – even if like me – you didn't know her in person.
If you are on Twitter – Tweet using the hashtag #Healing4Kerry 
We want to see if there is strength in numbers and power in prayer. If like me, you are unsure of your stance on religeon – a message of hope will be appreciated just as much.
I am posting mine early to raise awareness of this event so you can put it in your diary / Hootsuite / twitter scheduler / blog. I will also be tweeting on 24th.
To Kerry from me
– As one of my blog Idols, I wish you strength in your rehabilitation and speed too, so that you may go home to your wonderful family and continue being an inspiration to the rest of us.
Love and thoughts,
Emma from CrazyWithTwins xxx
UPDATE:
Sadly on December 14th, Kerry lost her battle against infection and passed away. Please read her husbands post on her blog, here.